Posted on
By Rhys Poirier, Owner & Founder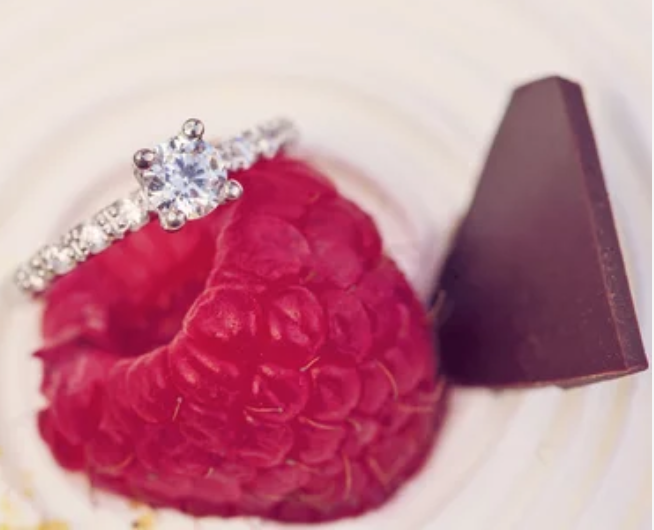 The holiday season is about way more than giving gifts. It's about spending time with family and friends, giving back to our community, and sometimes, romance. The holidays are the most popular time of the year to get engaged -or at the very least, for your partner to drop not-so-subtle hints and stare at you!
When you've found the love of your life, there's nothing more exciting than trying to figure out how you or your partner is going to propose. There are so many ways to do it!! Anyone who's watched the surprise proposal videos on YouTube and TikTok will tell you that there are literally millions of ways to pop the big question. For those of you who would rather take the next step in your relationship in a more intimate setting than a football stadium, hiding the ring in the dessert course is the perfect way to make sure they're surprised by the sweet surprise.
Now, you have to be careful that they don't swallow the ring before they see it!!! 
Here are 10 creative and safe ways to hide the ring for your sweetheart:
1. On top of a cupcake
Design a special cupcake just for your sweetheart and place the ring on top as the perfect centre piece of the garnish. Make sure you have the camera ready for when they realize it's real!!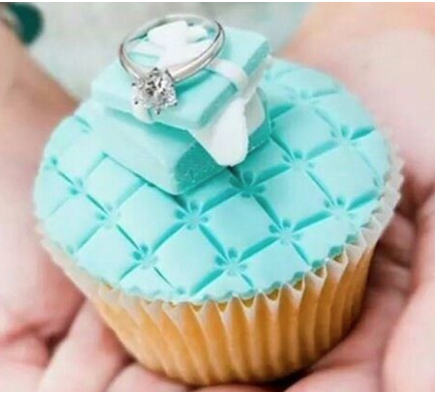 Photo by Soundview Caterers
2. Inside of a box of chocolates
This is one of those where you DEFINITELY can't hide the ring inside of an actual chocolate… or you'll be proposing in the emergency room! Even if they work in healthcare, it won't be fun.
Instead, tuck it into the box so that they'll see it when they open it! You can even add a love note or other heartfelt message. Hopefully after they get over the shock and excitement they'll share the chocolates with you :) . 
3. Inside of a smashable chocolate heart
This one's very trendy and might be a bit of a giveaway, but at least smashing the chocolate with a little hammer will get out some of the nerves! The best part of this one is that it's SUPER easy to make in no time at all, and it's also super easy to customize! You don't have to be a master baker to impress your partner with how much love and thought you put into it.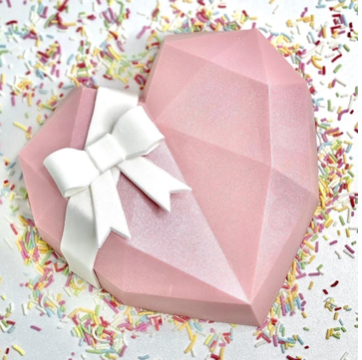 Photo by SugarStampLtd
4. Inside of a fortune cookie
If you guys met at a Chinese restaurant, or even if you just really love eating Chinese takeout together (and, I mean, who doesn't?), you can make your own fortune cookies with the ring inside and a note that says "will you marry me?". If you don't feel confident in making your own fortune cookies, you can also just grab some with a wide enough hole from the restaurant and very carefully swap out the contents. 
*Note - They might notice something's up if you suddenly decided to take the wrappers off of the fortune cookies before you finish your meal and you never do that. I'd suggest laying everything out for a romantic takeout dinner beforehand!
5. The bottom of a champagne (or wine) glass
This one's a classic - and for good reason! It'll be pretty visible as they take those first few sips, but if they're getting close to the bottom of the glass, make sure you say something like, "Oh, honey, it looks like there's something at the bottom of your glass!" so that they don't swallow it. Again, emergency room = not so romantic! 
6. On top of a cinnamon bun
This one is less traditional, but it'll be even more surprising if you normally do sweet things for them like making breakfast in bed and this time there's a delicious gluten-free and dairy-free cinnamon bun AND a ring!! 
See what I did there? Pssssttt!! We make really good gluten and dairy-free cinnamon buns!!! You can buy them here: SHOP NOW
Anyway, if you guys love snuggling in bed on cold wintry Sunday mornings, this one's for you.
7. In a cake (with a candy coat)
Hiding a ring somewhere in a cake completely bare? Bad idea. Hiding it in there with a hard candy coating? Brilliant!
For this one you'll most likely need a baker's help, but if you melt sugar to 300 degrees Fahrenheit, and then let it cool in a mold, you'll get a hard, clear shape that can't be easily cut or bitten in to. You can then hide the protected ring inside of a cake safely!
If you do decide to do this yourself, remember that you won't be able to bake the candy protected ring into the cake without the candy melting, so you'll need to stick it in the frosting between cake layers in the decorating phase. 
8. In an arrangement of chocolate dipped strawberries 
If your significant other doesn't have as much of a sweet tooth, try using an edible arrangement of chocolate dipped fruit! You can make the ring as easy or as not-so-easy to find as you'd like, just so long as you don't jam it into the middle of a strawberry. In most cases, a ring box centre piece is the way to go or a ring laid on top of one of the strawberries is the way to go. 
Photo by The Anthony Kitchen
9. In the cream middle of a macaron
These sweet little treats are the perfect ring holders! You can keep the diamond or stone sticking out of the top so that it's easily seen when they open the box. 
10. On a chocolate curl garnish
This one's great because you can put a chocolate curl on just about anything more fragile, from ice cream to mousse! This one will take a trained pastry chef, but you can definitely ask your local bakery or restaurant to help you out! They can even mold the curl into the shape of a ring holder.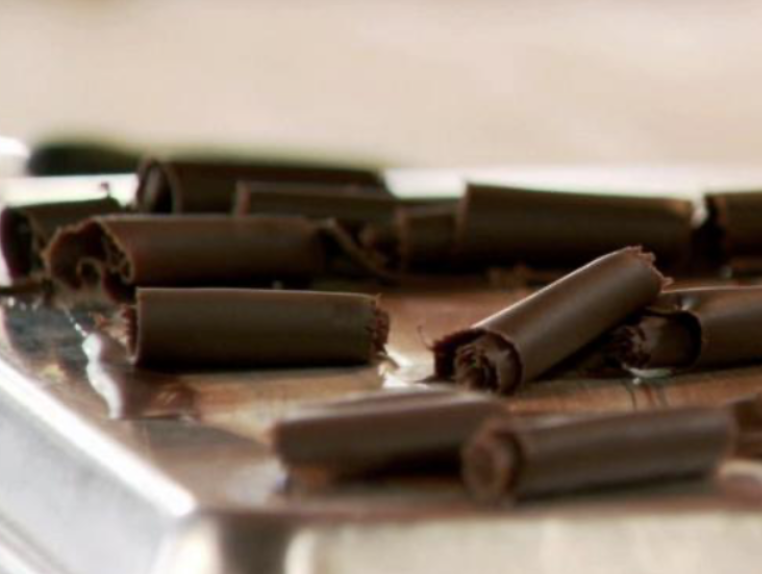 Photo by The Food Network