Posted on
By Rhys Poirier, Owner & Founder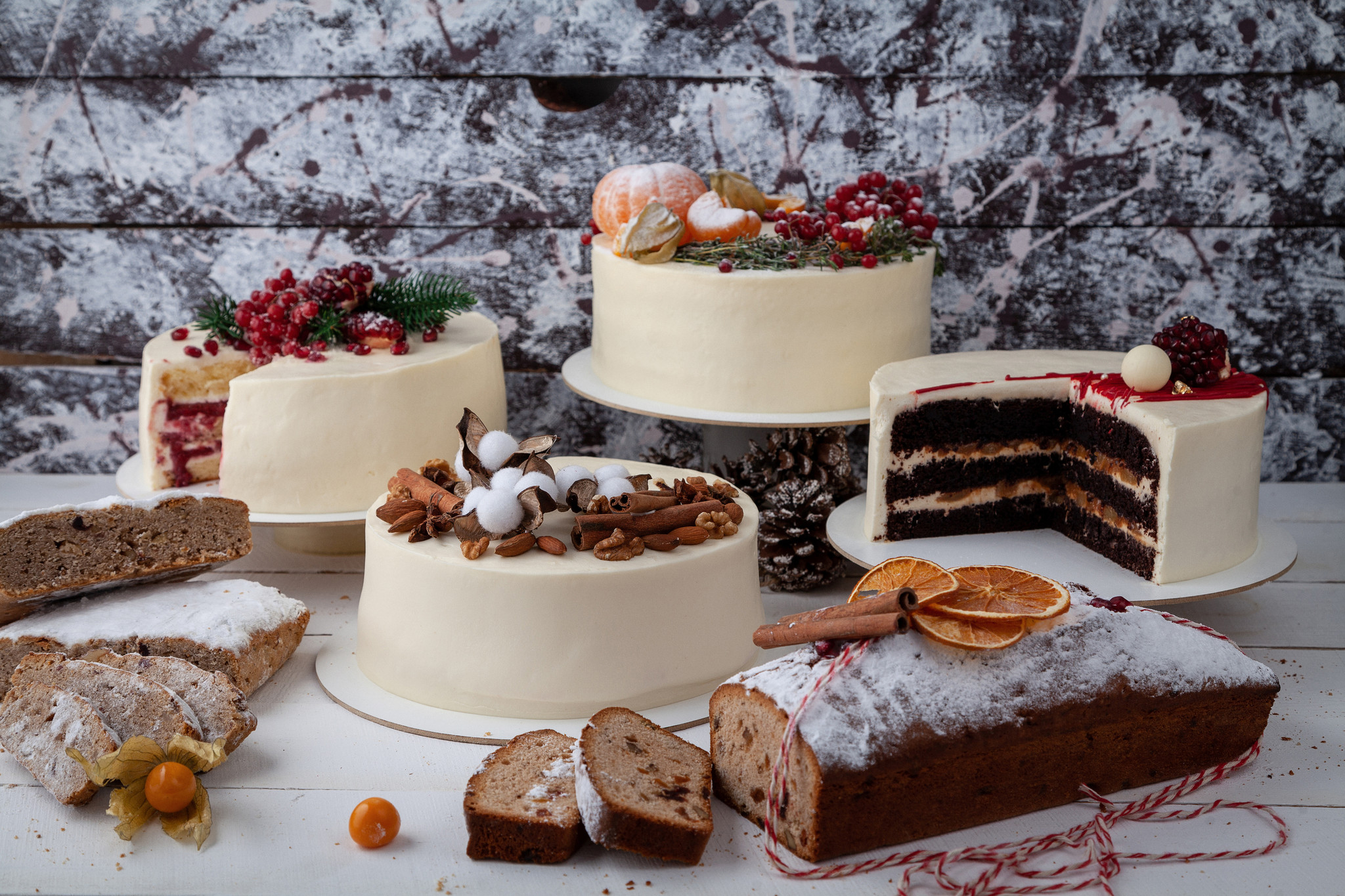 This holiday season, surprise your friends and family with a homemade, delicious, and gorgeous gluten and dairy-free buttercream cake that everyone can enjoy.
It's officially November, and that means that the holidays are right around the corner! It's time for friends and family to come together and share great company, food, and (probably) wine. Of course when I say great food, I'm not talking about turkey, I'm talking about cake! 
You have some time off, so now's the perfect time to test out your baking skills and make that stunning cake you saw on the Great Canadian Baking Show, Baking Impossible, or Sugar Rush. There are so many shows these days it's hard to keep up! I mean, how many crafts do you get to eat when you're done? Anyway, if you're rolling up your sleeves and getting ready to dive in, I'm going to help with some tips and tricks so that your cake doesn't look like a Nailed It masterpiece. The best part is that because it's gluten and dairy-free, everyone will get to enjoy all of your hard work.
Baking the Cake
Now, if I gave away our bestselling chocolate cake recipe, I'd have to kill you like James Bond. BUT I can give you some advice!
Gluten-free, dairy-free, and vegan baking is very difficult. Don't quote me on this, because I just made up this fact on the fly, but I'm pretty sure allergen-friendly baking is 10x harder than regular baking. 
If you're a beginner, welcome to the kitchen! We're happy to have you. Start off with a simple, ready-to-use cake mix before you tackle a recipe from Pinterest. I say that not because I don't have confidence in you, but because a lot of those recipes aren't tested thoroughly enough. I would highly recommend Pamela's cake mixes - they're moist, delicious, and don't have any crazy processes to get it just right. 
If you know your way around a kitchen but wouldn't consider yourself an expert, then go for that internet recipe, but watch where you get it from! Not all recipe sources are reputable. Look for magazine articles or well-established blogs and sites. Remember this - if it doesn't seem right, it probably isn't. Pictures can be very deceiving.
Kitchen experts, I salute you and wish you the best of luck if you want to bring an old family recipe to the dark side (gluten-free). It's no easy feat, but it can be done. Whatever you do, DO NOT attempt to do the conversion last-minute. Plan for at least 3 tries before you get it balanced again. Check out an earlier blog article I wrote specifically for this feat: Taking Gluten Out of Old Recipes
Making Dairy-Free Buttercream
Making buttercream (frosting) dairy-free is also quite a challenge, because it can't contain butter, which is unsurprisingly the backbone of buttercream. Butter substitutes behave very differently from real butter. There's a number of ways to make a good dairy-free buttercream, but remember to follow these 3 rules:
Rule #1 - Never use a liquid oil like coconut oil, olive oil, etc. I've heard of recipes that use these, and it just doesn't work. Your frosting will end up a soup with only one note of flavour!
Rule #2 - Look for butter substitute products that have a high content of lecithin, which is an emulsifier (fat and water binder). The two most popular forms of lecithin are soy and sunflower. Soy is without a doubt the most effective, but if you can't eat soy, sunflower will help a little. Without this key ingredient, the fat will slowly ooze from your frosting! I know... it's an appetizing thought. 
Rule #3 - This is a touchy subject, but I personally won't use any butter substitute that has palm oil as the first ingredient. Let me explain. Finding sustainably and ethically sourced palm oil actually isn't very difficult these days... my problem with it is that it's a difficult fat for your body to process, so it tends to upset the stomach. That said, if you can handle it, it does really help to thicken up your frosting and won't ooze oil.
Cutting the Cake Layers
Have you ever seen a homemade cake that looks like this: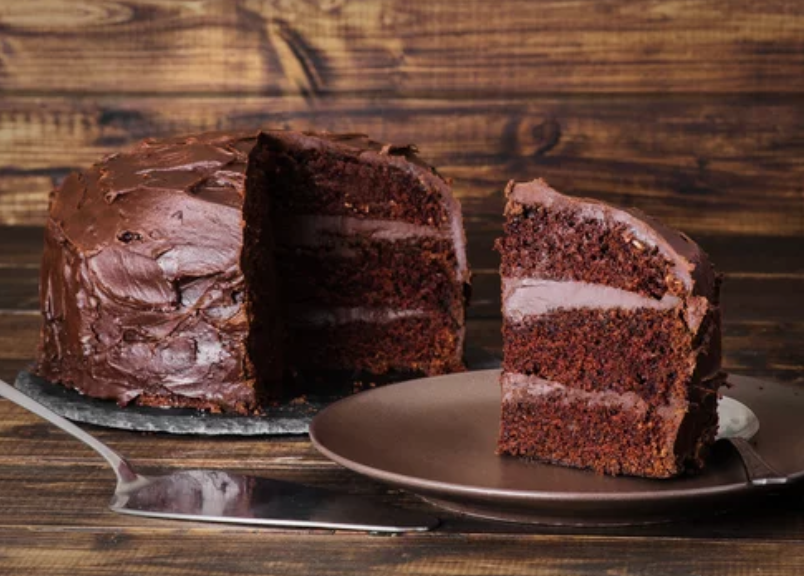 or this: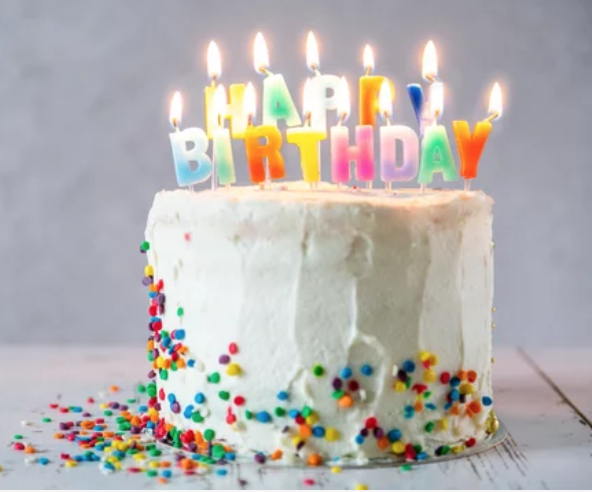 and wondered why it doesn't look flat like the professionally done cakes?
If you don't cut your cake layers so that they're completely flat, you're setting yourself up to fail! Every great cake starts with a great structure, so your stacked layers should make a nice and flat cylinder. Depending on how high you'd like your cake to be, how many layers you'd like, and what filling you're going to use, your layers can be many different heights. There isn't a right or wrong answer! It takes a lot of practice to be able to freehand cut the perfect cake layer, so I would definitely start with some sort of cake layer slicer or knife guide. You can get an amazing cake knife guide on amazon for only $6 with 5 different settings!  
The "Crumb Coat"/"Dirty Frost" 
Like the title suggests, you're then going to apply a thin, crumb-filled coat of frosting onto the cake. 
Grab your cake board and place a small dab of frosting in the middle of it.

If you're making a small cake, 1/8" thick will do. If it's any bigger than 6" in diameter, I'd go with 1/4" or more. The diameter of your cake board should be at least 2" longer than the diameter of your cake!

Stick your first cake layer on top of the frosting dab in the centre of the cake board. The frosting dab will act like a tasty glue. 
Make a thin layer (about 1/4" thick) of frosting to go between this bottom layer and the next. The easiest way to do this is to use an offset spatula (see image) and a turntable (see image). The frosting should be flattened, but it doesn't have to be absolutely perfect! You'll have the chance to level it again with the next layer that goes on top. Repeat for each layer. 
Cover the top of the cake with a very thin layer of

 

frosting using the same technique that you used for the frosting between the layers.

 

Cover the sides of the cake using one of two methods:

Using the offset spatula, applying frosting like drywall putty
Piping on the frosting using a "cake tip" (see image)

Smooth the frosting using a straight edge. I personally prefer plastic frosting smoothers (especially for dairy-free frostings), but metal ones work well too! A very cheap alternative is to cut out a rectangular piece of cardboard with perfect 90 degree angles. Buddy Valastro still recommends this old cardboard trick!
Flatten the remaining frosting edges on top of the cake by dragging them inwards from the outside, towards your body on the opposite side of the cake. 
When finished, you should have what looks like a naked cake, because that's exactly what it is! You should be able to see the layers of cake underneath the frosting. The purpose of this coat is to solidify the structure of the cake with the frosting between the layers  so that you can go back later and apply the finished coat without any crumbs. 
Chilling
This step is essential! You need to chill your crumb-coated cake so that this layer of frosting doesn't blend with the top coat! In a regular freezer, this process will take a few hours. In the meantime, clean up and prepare any garnishes you'd like to use. 
The Top Coat
Apply the second layer of frosting using the same technique you used to put on the crumb coat. Keep your smooth edge at a 90 degree angle to avoid having slanted frosting. Honestly, the key to a good top coat is relaxation! Remember, it's just a cake. 
Get Creative!
Congratulations, the hard part is over. Phew! Now that you have a gorgeous cake to share with your family and friends, you can get creative and personal with it! Piping borders and swirls takes practice, so I would suggest trying some piping patterns on parchment or wax paper to start. Honestly, becoming one with the piping bag is a wax on, wax off situation. One day it'll just click and the world of buttercream will make sense! 
You can also make garnishes out of so many things like chocolate, edible glitter, sprinkles, candy, fondant (thought that's a whole other article in itself), and non-edible cake toppers! My friend Jane Morassutti at Lynden Barn is a local artist that makes some amazing cake toppers at very reasonable prices. You should definitely check out her work! 
We want to see what baking adventures you guys get up to this holiday season! Let us know in the comments below what you've tried, and show us some pics!!