Posted on
By Rhys Poirier, Owner & Founder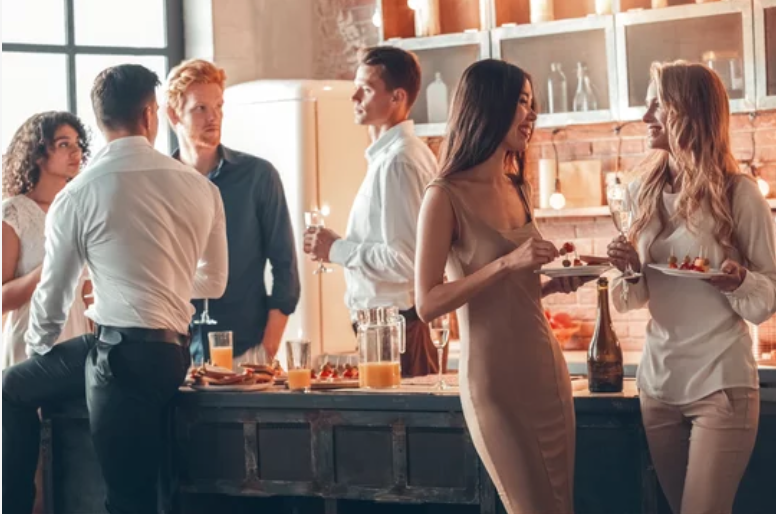 This is our guide to the gluten and dairy-free holiday season! If you're new to the gluten-less scene, don't worry. We've got you covered.
You're not gluten-free, but maybe your new daughter in-law or your aunt Susan is gluten sensitive, and now you're panicking! The holiday season is here, and it can be tough to navigate desserts for everyone at the table. Gluten-free desserts have earned a reputation for being dry and tasteless, and thinking about the treats that were available 20 years ago, it's not hard to see why. Those first gluten-free treats wouldn't be touched with a 39 1/2 foot pole by those who could eat "regular" treats! (Yes, I just made a Grinch reference!!) Thankfully, we've come a long way since then, and we have some amazing options here at J. Crawford that you can confidently serve at your holiday table this year. 
Here are our Top 5 Picks for this Holiday Season:
1. Yule Log Cake
My family served yule log cakes every year for fifteen years until four of us discovered gluten intolerances all at the same time! It was a crazy year. We had no clue what to do for holiday gatherings. Eventually we found a local bakery with some great holiday cupcakes, but we all missed our traditional yule log cake. 
This year, we're going to be serving J. Crawford's take on this holiday classic. It's a deliciously moist and rich chocolate cake filled with vanilla buttercream, and coated in chocolate buttercream and chocolate shards to make a bark-like texture. For an added touch of elegance, we're garnishing it with candied, sugar-coated cranberries and sprigs of rosemary. 
This cake feeds between 8-10 people and will be gone quick, so make sure to put in your pre-orders at least a week before Christmas Eve! If you'd like a bigger size, we'd be happy to help! Just send us a message at [email protected] with the number of people you need to feed, and we'll suggest the perfect size. We're taking holiday custom cake orders until December 15th 2021. 
2. Holiday Cupcakes
Holiday cupcakes are another fantastic way to enjoy a little sweetness at family gatherings! They're great for kids and adults who are still kids at heart. This year we have two different seasonal flavours - gingerbread and peppermint hot cocoa. Grab even numbers of each to give your guests two awesome choices, and make sure to grab some extras for seconds! 
3. Gingerbread Cookies
Why not treat Santa Claus to some delicious, vegan gingerbread cookies this year! Cut into the shape of snowflakes and decorated with intricate frosting designs, these babies are levelling up the holidays.
4. Butter Tarts
Butter tarts are a Canadian favourite, and I can't think of anything more universally well-loved. They're rustic, simple, and perfect for all ages. 
5.
 

Carrot Spice Cake

Okay, so nobody really thinks about the holidays and then says, "Oh yes, we should get a carrot cake." BUT let me tell you that our carrot cake is delightfully warm and perfect for any holiday gathering. It's all in the spices! 

 
*BONUS* Apple Pie Bar
It's really more like a Top 6, but that's just not nearly as catchy!! Our apple pie bars are a fantastic option for those who love pie but don't want to deal with making a pie from scratch and dealing with the dreaded gluten free pie crust. They're always a crowd-pleaser and pair well with (non-dairy) ice-cream. 
Wine Pairings
Now that you have everything you need to make sure everyone can enjoy some delicious sweets, it's time to think about what you're going to serve with them! Here are some wine suggestions to order or pick up before the party:
Dry Riesling
Personally, this is my favourite wine. I'm a sucker for a nice dry white, and the complexity of this wine's acidity and minerality makes it irresistible! 
I recommend pairing a German Riesling with something sweet and syrupy, like our apple pie bars and butter tarts, to balance the flavours and enhance the fruit. The earthy notes will also bring out a crust!
Fino Sherry
Fino Sherry is lighter and more subtle than most Sherries, and has notes of almonds, salinity, and a bit of citrus. The lightness but lack of acidity like the Riesling makes this an excellent choice to pair with something warm, deep, and comforting. It's a sure bet for carrot spice cake and gingerbread cupcakes! 
Ruby Port
Ruby Port has a deep, rich, and dark fruit flavour that pairs perfectly with chocolate. Some like a lighter fruity wine, but we love how the depth pairs with our rich chocolate cake. Unsurprisingly, we recommend this one for our Yule Log cake and Peppermint Hot Cocoa cupcakes.
Where Do I Order?
Your google crusade for "gluten free bakery near me" is over! Click here to connect to our online ordering system where you can find all of our holiday treats available for quick pickup in Burlington, or same-day delivery in Burlington and the surrounding areas (Oakville, Milton, Hamilton) through Skip the Dishes, Door Dash, and UberEats. 
If you're interested in placing a custom order for the holidays, book 15-minute consultation appointment with me here, and we'll talk all about how we can bring your ideas to life!